Wireless Bridge Point to Point for 5KM Remote Transmission, 5G WiFi 900Mbps Outdoor CPE PtP & PtMP with 15dBi High-Gain Antenna and 1000M Ethernet Port 48V PoE, Support 50+ Client Devices, 2 Pack
CPE550 Wireless Birdge is an outdoor high power and high-performance CPE, which works at 5G frequency, wireless ratio frequency up to 500mW, good for long distance transmission, 16M Flash + 64M RAM, more stable performance in wireless transmission . It supports Point to Point and Point to Multi-Point wireless connection; The transmission speed between 2 bridges max is 900Mbps; The highest network speed that can be achieved max is 867Mbps; The transmission distance max is 5 km /3.1 miles
【CPE550】 Outdoor Wireless Bridge is a 5 GHz high-powered long-distance 11AC wireless outdoor AP/client bridge offering dual-PoE Ethernet ports and a high-gain directional antenna that emits a narrow signal beam, limiting interference and ensuring stable connectivity, high-bandwidth and 867 Mbps speeds over long distances.
【Up to 900Mbps Data Rate】Equipped with 1000M Ethernet port and 2*2 MIMO Antenna, it provides higher speed for all users to ensure that you have access to better WiFi service.
【Wider WiFi Coverage-5KM】Build in a up to 500mW power amplifier and a 15 dBi MIMO high-gain antenna, which greatly improves the coverage and WiFi signal stablity. Support 50+ client users.
【Easier Connection and Management】It can quickly establish a PTP & PTMP connection and can be managed via the PC or mobile phone WEB browser interface. Modify the IP address of the computer to the same network segment as the CPE (192.168.0.XXX) before accessing.
【Multiple Applicable Scenarios】5G outdoor CPE supports AP/repeater operation mode and PoE/DC power supply mode to meet a variety of long-distance wireless transmission needs, such as buildings, factories, rural areas, construction sites, squares, elevators and other places.
Features
Built-in 18 dBi dual-polarized directional antenna to boost your signal. Wireless speed up to 900Mbps
Wireless ratio frequency up to 500mW, good for long distance transmission
16M Flash + 64M RAM, more stable performance in wireless transmission
Delicate design makes the outdoor project flexible to carry out. It can be used in complicated environment, like elevator monitoring,also weather proof case against rugged environment
Standard with POE power supply, which makes project more simple and convenient and safe
Technical Specifications
Standard: IEEE 802.11a/n on 5 GHz
Power Source
PoE adapter 24V POE. 100V~240V AC, 50-60Hz
Physical Interface

1 * DC Power input
1 * LAN1 (Supports 802.N PoE Input)
1 * LAN2 (Data oE Pass-Through)
1 * Reset Button
1 * A/B Switch
1 * LED display

Indicator light

1 * Power Indicator light
1 * LAN1 Indicator light
1 * LAN2 Indicator light
1 * WLAN Indicator light

Package List

KuWFi Outdoor AP*2
PoE adapter*2
Pole Mount Ring
Mounting Screw Set
Quick Installation Guide
Set IP address

Before logging in to the management page
Please set the computer's local IP address to 192.168.255.X

Login WeB UI

User Name: admin
Password: admin
For A unit, log in to 192.168.255.101
For B unit, log in to 192.168.255.201

Notes: The IP address of WebUI changes with the LED number, you can refer to picture 9

Management page

You can manage your AP here
Settings Page
NOTE: The SSID is hidden by default and can be turned on manually
Default SSID: CPE5G_5G+XXX(XXX=Radio Channel)
Default wifi password: zllinkcpe123456+XXX(XXX=Radio Channel)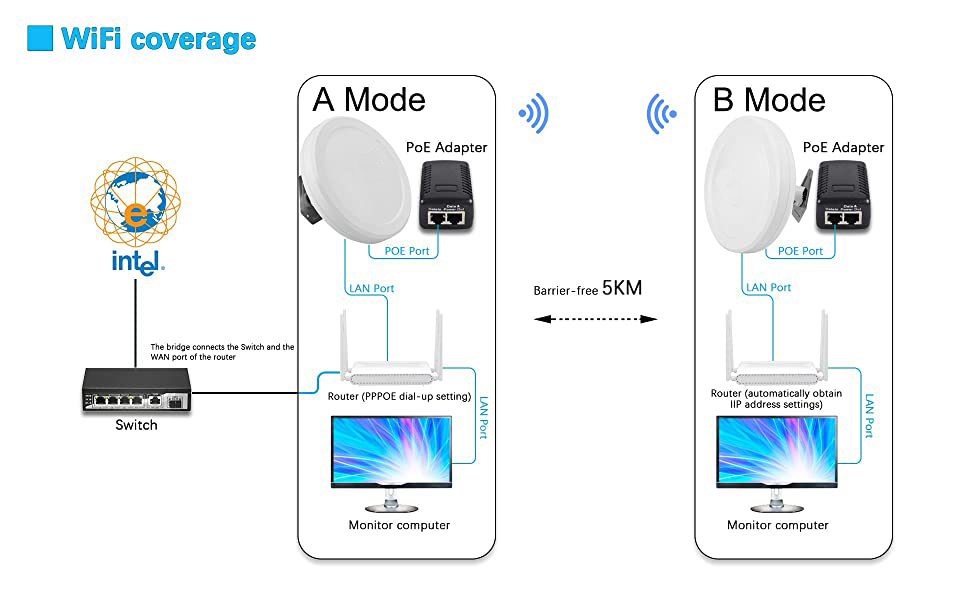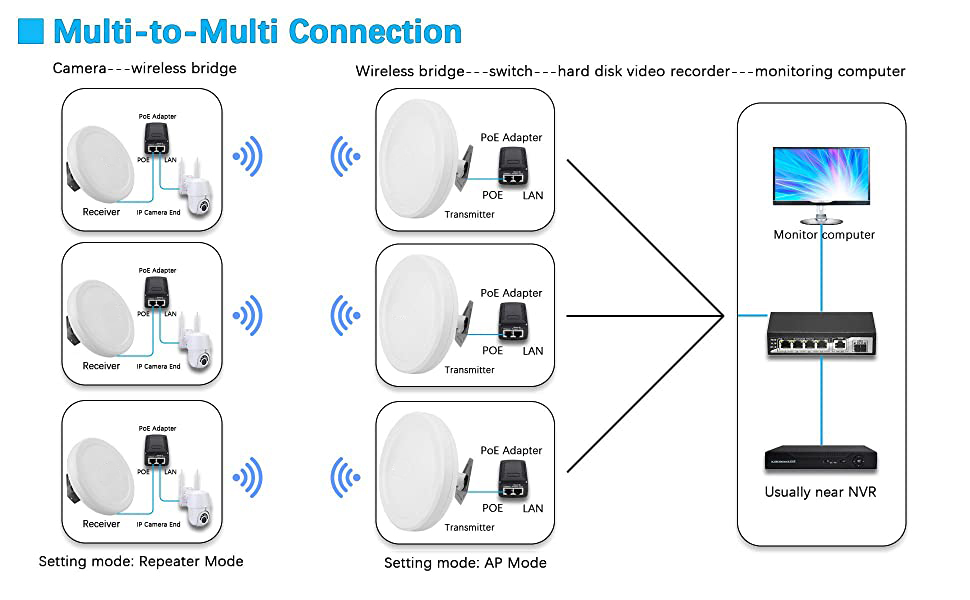 outdoor wifi extender | access point | outdoor access point | wireless access point | point to point wireless bridge | wireless bridge | wifi antenna | wifi extender | wifi access point | wifi bridge | wireless bridges | wifi booster | wireless access point | wifi adapter | wifi bridge | wifi bridge | outdoor access point